College Budgeting: The Art of Re-Gifting
The last packages have been unwrapped, the lights have started to come down and the Christmas trees are getting dragged out to the curb for pick up. If you were good this past year you might have ended up with everything you wanted for Christmas…and then some.
Even if you weren't good, you probably ended up with a lot of stuff you won't use for a while, or maybe ever. So, what do you do with all your gifts when they don't come with gift receipts? This day in age society encourages the 3 R's: reduce, reuse, recycle. Why not utilize this concept with some of your cast-off presents?
The Art of Re-Gifting
On Christmas morning, my siblings and I dig into our stockings, we unwrap a bunch of travel sized toiletries which come in handy throughout the year. But after a while of collecting travel sized toiletries and not traveling enough we're left with a surplus of miscellaneous items. It made me think that instead of collecting all of these items and letting them sit on shelves as if I'm the owner of a convenience store, I've decided to embrace the 3 R's and start distributing these items. The best way to do this is to make gift baskets.
Girls Night Basket: You can re-distribute hair-ties, nail polish, and manicure kits, into a "girl's night" basket. Those $5 dollar micro-fleece blankets from Walmart are also a great addition.
Stay-At-Home Movie Night Basket: If you happen to get too many fuzzy socks, or DVDs that you already own, toss those in a basket with a few cans of soda, bags of popcorn or bars of candy and you have a "stay at home movie night basket."
Student Basket: Another great basket is the "Student Basket", this is made easily by tossing in a giftcard or two that you've received, places like Starbucks and Barnes & Nobles are particularly useful, especially for a student; you can add picture frames and mugs as well.
Spa Basket: This is a great one for your mom, sister or lady friends. If you're a guy you probably won't end up with an excess of these items though…but if you happen to come across some bath salts, body wash, bubble bath, loofas, votive/tea-light candles or pedicure kits by all means toss them in a basket and you have a pretty nice present.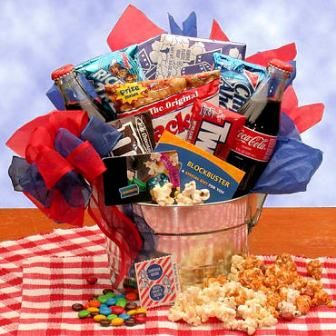 You can do this with virtually anything you get that you aren't particularly attached to and get creative with personalizing baskets for individuals.
Personalize
Items that you have in bulk can always be personalized. Especially since PInterest has such a strong presence these days and provides us with crafty alternatives, why not utilize it? There are countless numbers of mod-podged crafts; mixing mod podge with fine glitter can easily result in modern day pixie dust. You can mod podge and glitter anything from candles and vases, to phone cases and shoes!
Another item that you can re-gift is a journal. You can personalize a journal by re-covering it with fabric or even adding your mod podge and glitter mix to the cover.
Picture frames are a great re-gift item as well; you can decorate the frame and add a picture, poem or note to the inside.
Personalized gifts are appreciated so much and it shows the recipient that you cared enough to go beyond simply giving a gift.
Re-Gifting Etiquette
While re-gifting items is a great way to recycle gifts that you might not use or necessarily want, there are some things you must consider before re-gifting an item. The first thing you absolutely need to be sure of is that you don't re-gift an item to the person you gave you the gift.
An easy way to prevent that from happening is by labeling the gifts that you are willing to re-distribute.I cannot stress this enough, LABEL YOUR ITEMS by putting the name of the person that gave you the gift. This can keep you from giving that gift back to them or giving it to someone else in the presence of the person who originally gave you the gift.
Be organized. Designate a particular box or shelf to hold your items, that way when it comes to a last minute birthday or mother's/father's day gift, you know exactly where to go and what to give out. But don't label that box "Items to Re-Gift," because the key to re-gifting is being stealthy. You don't want people to know that you're a cheap re-gifter.
Go Forth and Re-Gift!
Now that you know how to re-gift your castoff items, go for it! Just be careful, you don't want to hurt people's feelings by re-gifting all of your items. If your bank account is hurting, by all means be a re—gifter. But use your imagination as well in order to personalize your gifts or make them into a special basket that the recipient will really appreciate.
The following two tabs change content below.
Bryanna Maty
Bryanna Maty is a Senior at the University of California, Davis. After graduating in June she hopes to find or invent a career that will utilize her love for writing, spending money and making people laugh. In her spare time you can find her crafting things off of Pinterest, swimming, line-dancing or watching re-runs of "Friends."
Latest posts by Bryanna Maty (see all)