College Dorm Necessities
I have never lived in a dorm.
I'm a college senior at a University but I have never experienced eating at the dining commons, co-ed bathrooms, or sharing a room with 1, 2 or 3 other individuals.
People tell me that I've missed out on a crucial college experience…but this means that if you are planning on going to college next year and living in a dorm room, you're just as unaware as I am about what college dorm necessities you should bring with you.
So how can I give you advice on what to pack into your itty bitty living space? It's simple, I asked around and have compiled a thorough list of what you NEED to bring with you. I may not have actually lived in a dorm room, but I have been in plenty.
I know that you are sharing minimal space with the maximum number of occupants your University can cram into a giant closet that they call a dorm room, and I also know that minimal packing is a must, but I have also discovered what the college dorm necessities are.
John Lee from Sacramento State University stated that SNACKS were a must!
Snacks! Lots and lots of snacks!!! Me and my old roommate had a whole drawer dedicated to all our snacking needs whether it be instant oatmeal or cookies!! We had it all! And for those late nights…coffee maker, what else? We also had a TV for all of our gaming and TV watching needs, this was used to relax, you know, unwind from the stress of college.
I stumbled across a great list of nutritious snacks to keep in your dorm room.
But let's be honest, you're going to want to reward yourself with some naughty snacks after a long day at school so make sure you keep some munchies in your room, a bag of candy, popcorn, chips, or some pretzels will do the job.
Other food related items that were recommended are:
Case of water
Instant coffee or tea
Magic Bullet
Frozen fruits
Yogurt
Peanut butter and jelly
Sliced bread
Hot plate and electric kettle
Can't stress enough how important shower flip-flops are!
-Fahad Ali (Graduate from UC Merced)
A big thing that the majority of college freshman are blindsided by is shared bathroom facilities…sometimes they're even coed! The number one item that people said when I asked them about college necessities was shower shoes!
This isn't a joke, there are some unmentionables on the floors of bathrooms that you don't want to be rubbing your feet all over, and the best thing to do is protect your feet from all of it.
There is a lot of bacteria lying around on the floors of bathrooms, have you ever heard of athlete's foot? Do you want it? No? Then be sure to pack and use your shower shoes or flip-flops.
Other bathroom college dorm essentials include towels, a bathrobe, and all of the toiletries you use to keep up your hygiene, the easiest way to tote everything to and from the bathroom is with a shower caddy or some sort of toiletry bag that will keep everything together.
Miscellaneous Must-Haves:
"Blackout fabric to sleep in afternoon after an all-nighter…fish and plants (at least one), bean bag or pillows for friends to lounge on the floor, white dry-erase board, air freshener since candles are usually prohibited, and a hundred bucks worth of quarters for laundry." -Micheya Evans (Graduate from Biola University)
A lot of people responded saying that air freshener was a must! Sharing a small living space with a few people probably creates some musk…so keep a glade plug-in with some refills handy.
Quarters. This is a big one!! Laundry units do NOT come in your dorm rooms, chances are you're going to have to tote your laundry down to the dorms Laundromat, keep a bunch of quarters handy. With that said, you should also keep laundry detergent, fabric softener and a laundry bag in your dorm room too.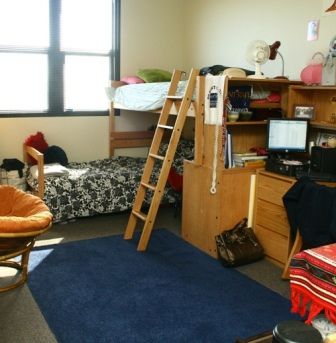 Here are a few other miscellaneous college dorm necessities you should cram into your closet of a dorm room:
First aid kit
Mini-ironing board and iron
Door mirror
Ear-plugs
Ethernet cables
Decorations
Stereo
Extension Cord
DVDs
Bedding
Clothes for every season
Umbrella
School Supplies
If you still find yourself feeling as if you forgot something when it comes time to move in, check out this awesome checklist from Bed Bath & Beyond!
Now that you know exactly what you need, your next challenge will be to fit it all into your miniature room, along with all of your roommate's items.
Good luck!
The following two tabs change content below.
Bryanna Maty
Bryanna Maty is a Senior at the University of California, Davis. After graduating in June she hopes to find or invent a career that will utilize her love for writing, spending money and making people laugh. In her spare time you can find her crafting things off of Pinterest, swimming, line-dancing or watching re-runs of "Friends."
Latest posts by Bryanna Maty (see all)