Dorm Bedding For Girls
If you're looking forward to starting your freshman year in college, then you're probably looking forward to living on your own for the first time.
One of the things I looked forward to when I moved out on my own for the first time was putting together my room.
I spent the majority of my life sharing a bedroom with my older sister; our room was definitely a child's room. There were stenciled pink bows bordering our entire room, pink lace curtains, and "precious moments" bed spreads.
I got so excited and a little crazy when I started shopping for my new room because there was so much to choose from – especially when you start to explore different dorm beding for girls!
Ladies, when it comes to bedding for your college dorm, the main idea is practicality. Your dorm bed will be a twin, and it may or may not be a bunk bed. It doesn't mean that just because your bed is small you won't be able to find anything cute. I
f you're like me and you enjoy color coordinating, the first thing you should do is contact your roommate.
Color Coordinate
By contacting your assigned roommate(s) you can color coordinate your room with them, if that's something you're interested in doing. This will provide you with a little insight on what kind of person you will be living with and what they're interested in!
If you're shopping for your new dorm bedding on a budget, there are also plenty of DIY  (do it yourself) dorm room crafts on Pinterest. Here are a few that I tried out!
Have you ever made a tie blanket? I made one recently for my roommate as a Secret Santa gift. Usually I just cut a bunch of strips along the border of the blanket and tie it together. These ties end up falling apart or being uneven so this time I decided to try something new.
Instead of tying the strips together, you cut even strips then cut a half-inch slit at the top of the strip. Then you flip the strip up through the slit and pull it through! This slipknot will stay tied in the washing machine and also looks a lot cleaner.
Pick your favorite fabric out that matches your room and make yourself a big blanket that not only adds to your dorm bedding, but you can wrap up and watch a movie in! This would also be a fun craft for you and your roommate(s) to do together!
This pattern can also be used to make matching pillowcases. If you don't want your things to be too "matchy-matchy," you can make one of these pillows!
This pillow is so cute, pretty simple to make, and will totally add to your dorm bedding! All you need is felt, a pillow, and a glue gun!
Buying or making a few decorative throw pillows adds a homey touch to your room! But it also provides your friends who are visiting something to sit on instead of just the carpet.
Bunk-Buddies
Like I said before, it's common for dorm rooms to have bunk-beds in it, sometimes you're even sharing a dorm room with up to three other people. This means, not so much privacy. If you're a heavy sleeper, a light sleeper, or even a loud sleeper, there are a few ways to still make yourself some privacy.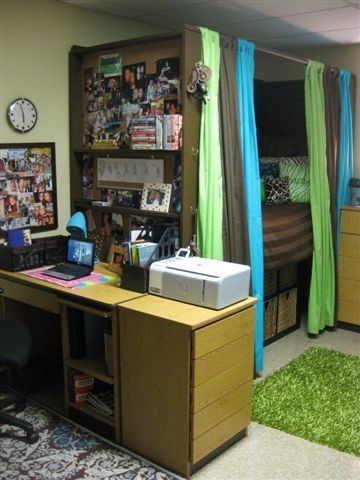 This picture shows a bunk bed that's missing its top bunk, but the idea is there. If your bunks are high enough or if two bunks are close enough together, you can set up a curtain rod and buy cute curtains to give you and your roommates a little bit of privacy and add to your dorm bedding decor.
Condense Space
Your dorm room is going to be small, with your bed taking up the most space. If you happen to get a twin bed that isn't attached to a bunk, you should consider getting a storage headboard.
IKEA has a few really cute headboards that have bookshelves and storage units built into the sides. Putting one of these behind your bed will provide you with some much-needed and highly desired storage.
Your dorm room is going to be your first little taste of freedom! It's going to be your home for the first year of college so make it as comfortable and as cute as you want!
There are so many cute ideas on PInterest, feel free to check out our Pinterest page and look under "Dorm Décor Ideas."
My dorm bedding is the best part of my room! I don't even have a desk because even when I did I spent all of my study time sprawled out on my bed.
The following two tabs change content below.
Bryanna Maty
Bryanna Maty is a Senior at the University of California, Davis. After graduating in June she hopes to find or invent a career that will utilize her love for writing, spending money and making people laugh. In her spare time you can find her crafting things off of Pinterest, swimming, line-dancing or watching re-runs of "Friends."
Latest posts by Bryanna Maty (see all)