Popular Jobs for Current College Students
When you go away to college your eyes will be opened to how expensive living on your own is and some of you will have to look into applying for a job.
For some people who have been working since you were old enough to get a work permit from your High School, applying for a job is nothing new. But there are some students who will be entering the work-place for the first time. The main thing you must consider when applying for a job is:
What kind of job do I want?
As a college student, our schedules are inconsistent and demanding. Not only must we consider in-class time, but study time is just as if not more important. When it comes to getting a job, you need to make sure you get a job that can work well for you. You have two basic options, "On Campus" or "Off Campus."
On Campus Jobs
I know quite a few people who work jobs on campus, since every campus is like a little city; you have a lot of options.
Bookstore
 Gym
Tutoring
Restaurants
Coffee shops
Outdoor Recreation Center
Computer Labs
Unitrans (transportation)
Departments (specified office positions for your major)
….And more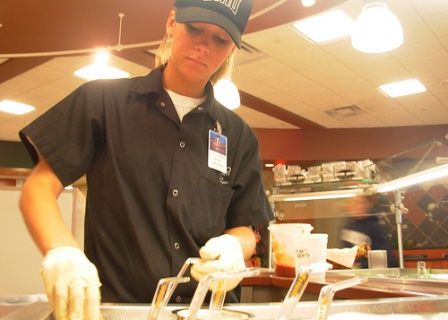 Look into it! Also look at your schools website, sometimes they have job links listed. Working on campus is known to have its perks too…
"I love working on campus because my shifts are scheduled around my classes and the management is very understanding because they are students as well. It's easy for me to get shifts covered when I need to study for an upcoming test, because there are others who need their shifts covered too. And the location is great, there's no commute!" –Sarah Miller, Freshman at UC Davis, Cashier at The Coffee House
Like Sarah, there are many students that require a job that is close to home or more flexible with scheduling. I highly recommend on campus jobs to freshmen especially since many of you need jobs but are required to live on campus and not allowed to have cars. On campus jobs will provide you a position that you do not have to commute far to and flexible hours that are arranged around your school schedule.  You can also check out your student employment center for job announcements.
Off Campus Jobs
There are some of you out there that don't want to work on campus, but have no fear! There are so many off campus job opportunities. Common jobs for college students off campus are:
Restaurants
Coffee Shops
Retail Stores
Movie Theaters
Babysitting
Grocery Stores
Bars
Convenient Stores
Gym
Yoga/Pilates/Dance Studios
And the list goes on and on and on…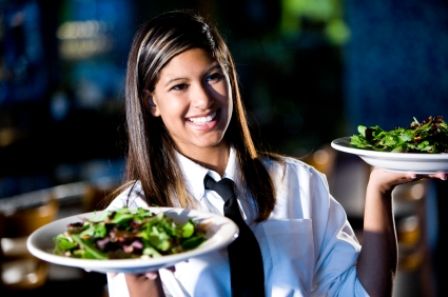 Off campus jobs have their benefits as well. In college towns, employers are aware that a lot of the people they hire are students, some are quite flexible with their scheduling as well. But aside from that, off campus jobs give you the opportunity to branch out and get away from school for a while.
"An off campus job has its perks because it's an opportunity to get away from school especially after spending the whole day on campus for classes, and it's a great way to meet and make connections with people outside of campus"
-Tatiana Hurtado, Sophomore at UC Davis, Associate at Chipotle
The benefits to working an off campus job are great too because you're already in the public work-place, the people you meet at your job are now connections you have established in the work world that can really help you once you graduate and are once again in search of a job.
I'm giving "babysitting" its own sub-category because this job is a gem! I know so many students who babysit/nanny regularly and they love it! Not many people think of babysitting as a job option while they're in college and most often associate it as a job for girls in high school. By all means, disregard this then and let the high schoolers rake in the big bucks! Aside from the pay, you'll be missing out on much more.
"It's such a rewarding job because not only is it preparing you for life experiences and children, but it is also flexible with school. It doesn't feel like a job, it feels like you are part of a second family. It pays well and is a minimal amount of hours." –Lindsey Fling, Senior at UC Davis, Nanny
The great thing about college is that we are able to pick our classes and make our own schedules. When it comes to babysitting, most parents just need someone for a couple hours at a time, or in the evenings when we're out of school anyways. Babysitting is a pretty relaxed job, you get to hang out with a few awesome kids and play games, and when they have to go to bed you can pull out your textbooks and study…you're getting paid to study! So don't write this job off and if the opportunity presents itself, I highly recommend that you take it!
Money Money Money!
I have heard so many people say, "It's so hard to get a job!!" If you're in college and you're saying that, your expectations for a job are probably way too high. It isn't difficult to get a job in college, there are so many options!! You just have to be proactive and put the work into getting a job. Here are a couple of quick tips that I'll leave you with
When you turn an application in, ask to give it directly to the manager. This way the manager has a chance to meet you and can match your face to your application when it comes time to pick someone to hire
Follow up on your application. If it's been a week and you haven't heard anything yet, go back and just ask about your application status, or give them phone-call and ask. This shows that you care and you really want the job.
Now that you are informed about the many job options out there, go get yourself a job!
The following two tabs change content below.
Bryanna Maty
Bryanna Maty is a Senior at the University of California, Davis. After graduating in June she hopes to find or invent a career that will utilize her love for writing, spending money and making people laugh. In her spare time you can find her crafting things off of Pinterest, swimming, line-dancing or watching re-runs of "Friends."
Latest posts by Bryanna Maty (see all)