Sorority Shirts For Every Season
The day I received a bid from my sorority was probably one of the best days of my college career.
During recruitment week I had been visiting different sorority houses and saw so many adorable sorority shirts that I couldn't wait to have in my closet.
I've already have seen so many cute, creative and witty sorority shirts and honestly, I'm in awe that girls are still coming up with fresh ideas!
If you're looking forward to joining a sorority when you go away to school, you definitely have more to be excited for than just a sisterhood…you have four seasons of sorority shirts to look forward to!
Let's start at the beginning of the school year, shall we?
Fall in Love
During the fall season we have something called "formal recruitment." This works a little differently at each campus, but basically each potential new member visits the different sorority chapters until they find the right fit.
All week long the sororities will be informing these potential new members about their philanthropies, social events, academics, and their house as a whole. It's a lot of fun! On bid day you will receive your bid and your first of many sorority shirts!
Big/Little week is also during the fall quarter/semester. During this week, you will get a TON of gifts from your Big Sis, this is when your closet fills up the fastest with shirts, picture frames, mugs, scarves, socks, sweaters, blankets, pillow cases and enough candy to last until your senior year.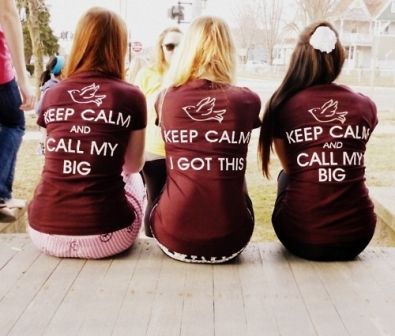 Bundling up!
Just because it's winter time doesn't mean you still can't rock your sorority apparel! If anything, it means you can rock more of it! Layers…duh. Sorority sweatshirts are my favorite anyways!
The biggest downside to getting sweatshirts with your letters on it is the fact that these babies are pretty pricey. I'll let you in on a little secret though…two words. Fabric Glue. You can literally make your own sweatshirts for less than ten dollars!
It also helps if you know how to thread a needle and do a basic stitch…but that isn't completely necessary. Literally all you have to do is find a fabric you like, if you aren't planning on sewing anything then I recommend you use felt so it doesn't peel.
Make yourself a basic stencil by drawing thick letters on either cardstock or cardboard. Then cut it out and glue it onto the sweatshirt, t-shirt or tank top of your choice. If you're going the really cheap route, I suggest the 6 dollar Walmart crew-necks or 10 dollar hoodies.
If you don't trust your gluing or sewing abilities you can always order online, try ordering with a few friends and knock down the price of shipping!
Spring Forward
Once spring comes out, the sleeves start coming off! The second the sun starts shining, sorority girls start swarming out of their dorms, houses and apartments. They can be seen lying out by the pool, tanning on the quad, or strolling downtown all the while still representing their sorority chapter!
Tanks are very popular among the Greek college community. Sororities tend to show their love by representing their favorite fraternities' letters on their tanks. But during the spring you'll also see some of the cleverest sayings on sorority shirts.
If again you find yourself a little short on cash, you can always play around with some of your shirts from fall or winter. There are so many different ways to cut a t-shirt and turn it into a cute tank.
Check out this website to see 10 different ways you can alter your t-shirt.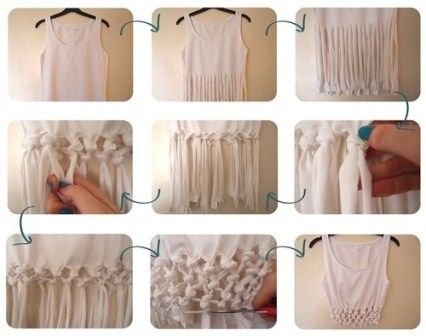 Summer Heat
Just because you're out of school for the summer, doesn't mean you still can't wear your sorority gear.
As a matter of fact, you and your sisters should all chip in on American Flag shirts! This has been a really popular theme for bid-day shirts as well.
Now that you have a full school years' worth of sorority shirts, you have all summer to do what you want with it in preparation for your next year at school.
If you're planning on taking a Little Sis when you go back to school, you should consider quilting some of your shirts into a blanket for her…or if it turns out well you could just keep it for yourself!
Be excited though! There are so many different events that will add another sorority shirt to add to your collection! They will all be so cute and so different!
If you're ever stuck at home online shopping, be sure to check this website out as well!
The following two tabs change content below.
Bryanna Maty
Bryanna Maty is a Senior at the University of California, Davis. After graduating in June she hopes to find or invent a career that will utilize her love for writing, spending money and making people laugh. In her spare time you can find her crafting things off of Pinterest, swimming, line-dancing or watching re-runs of "Friends."
Latest posts by Bryanna Maty (see all)